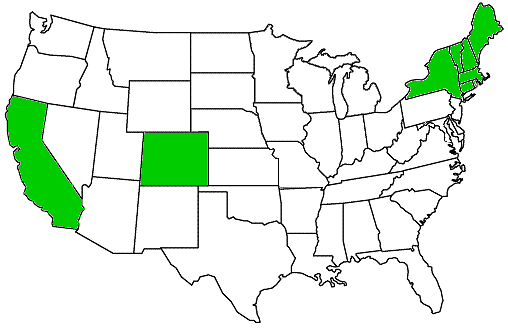 October 2005: 9 of 50, but who's counting?
---
Table of Contents
I am a 65 year old male (in 2002), retired and dividing my time between the Boston area and the White Mountains of New Hampshire. I hike year round, trying to go out about three times a week. When in the White Mountains I usually hike 4000 footers, when in the Boston area I most often hike in the
Blue Hills
.
Not only do I hike, but I bag peaks! I have written a short essay on my perspective on peakbagging, and indeed the main part of this site is devoted to peakbagging in New England.
As a regular New England peakbagger I have bagged the highpoints of New Hampshire, Maine and Vermont. I have been going to Colorado for a week or two since the summer of 2000, and in 2002 I bagged both the Colorado and California highpoints. In the spring of 2003 I added Massachusetts and Connecticut as part of a very enjoyable four day trip to the Berkshires.
With a grand total of eight highpoints to my credit I can hardly call myself a highpointer

, but I plan to attempt several others over the next year or so, who knows what will happen after that!
Mount Washington, New Hampshire
I have climbed Mt. Washington perhaps a half dozen times, and have written reports of two trips that are not completely conventional, plus one standard trip with a couple of twists. One describes a summer climb up the steep and rugged Great Gulf trail, with spectacular views in the Great Gulf as we climbed above Spaulding Lake. A spectacular trip, not easy with its 5,000 feet of elevation gain, but well worth it for those who can do it.
The second, and chronologically earliest, report is of a winter half Presidential Traverse, going up Mount Washington and then down the Crawford Path over Mounts Monroe, Eisenhower and, for some of the group, Pierce. I came down with the flu during that trip, but the sight of a full moon shining off the ice and snow as we camped near Mount Monroe is one I shall never forget.
On a beautiful mid-September day (in 2002) I climbed Mt. Washington by the classic Ammonoosuc Ravine - Jewell Trail loop. There were two unusual components to that otherwise very standard trip: I started with no clear plan, just wanting to enjoy a glorious day above treeline, and having reached Mount Washington I went over to Mount Clay, adding a couple of miles and some 500 feet of elevation gain. This is one of the easier ways up the mountain (at least for those who plan to climb it under their own steam!).
For a discussion of the various routes up Mt. Washington, including distances and elevation gains, see the Mount Washington page on this site.
Mount Mansfield, Vermont
My first summer trip to Mount Mansfield (September 1998) really does not deserve a trip report. I did the classic loop up the Long Trail to the Chin (highest summit), then went over the ridge to the main summit building, and descended by the Haselton Trail. For other standard routes see the Mount Mansfield page.
I returned to Mount Mansfield in the winter of 2001, as part of a long weekend bagging, in addition, Camel's Hump and Mount Abraham. We used the Long Trail to the Taft Lodge, then took the Profanity Trail to the summit, returning the same way.
In the summer of 2003 I returned one more time, doing Mount Mansfield by the Sunset Ridge Trail. I enjoyed the trail very much, and hope to repeat it in winter.
Katahdin, Maine
There are too many details about my Katahdin trip (October 1999) that I do not remember, I hope to return there soon! In the meantime you may be interested in a friend's attempt to do Katahdin in winter, her group succeeded in doing the easier Hamlin Peak, but was unable to summit the higher Baxter Peak.
Mount Greylock, Massachusetts and Mount Frissell, Connecticut
In the spring of 2003 I went on a four day Highpointing Trip to the Berkshires, during which I climbed Mount Greylock and Mount Frissell, as well as four other county highpoints. While preparing for that trip I researched the routes to Mount Frissell.
Mount Elbert, Colorado
In July 2002 I spent two weeks in Colorado, and hiked up Mount Elbert by the North Mt. Elbert Trail. A fairly straightforward hike, done after one week of easier hikes. Since it was my third trip to Colorado I knew what to expect from the high elevation, and how to cope with it.
Mount Whitney, California
In late August 2002 I went to California to climb Mount Whitney, and reached the summit two days before my 65th birthday.
Mount Marcy, New York
In late August 2004 I went to the Adirondacks to climb Mount Marcy, as well as a couple of county highpoints. By a strange coincidence I once again reached the summit two days before my birthday, this time the 67th. I decided that I wanted to revisit it in the winter, and did so in March 2005.
Highpointers Convention (or Konvention!) 2005
The 2005 Highpointers Convention will be in New Hampshire, I will be posting more information as it becomes available.